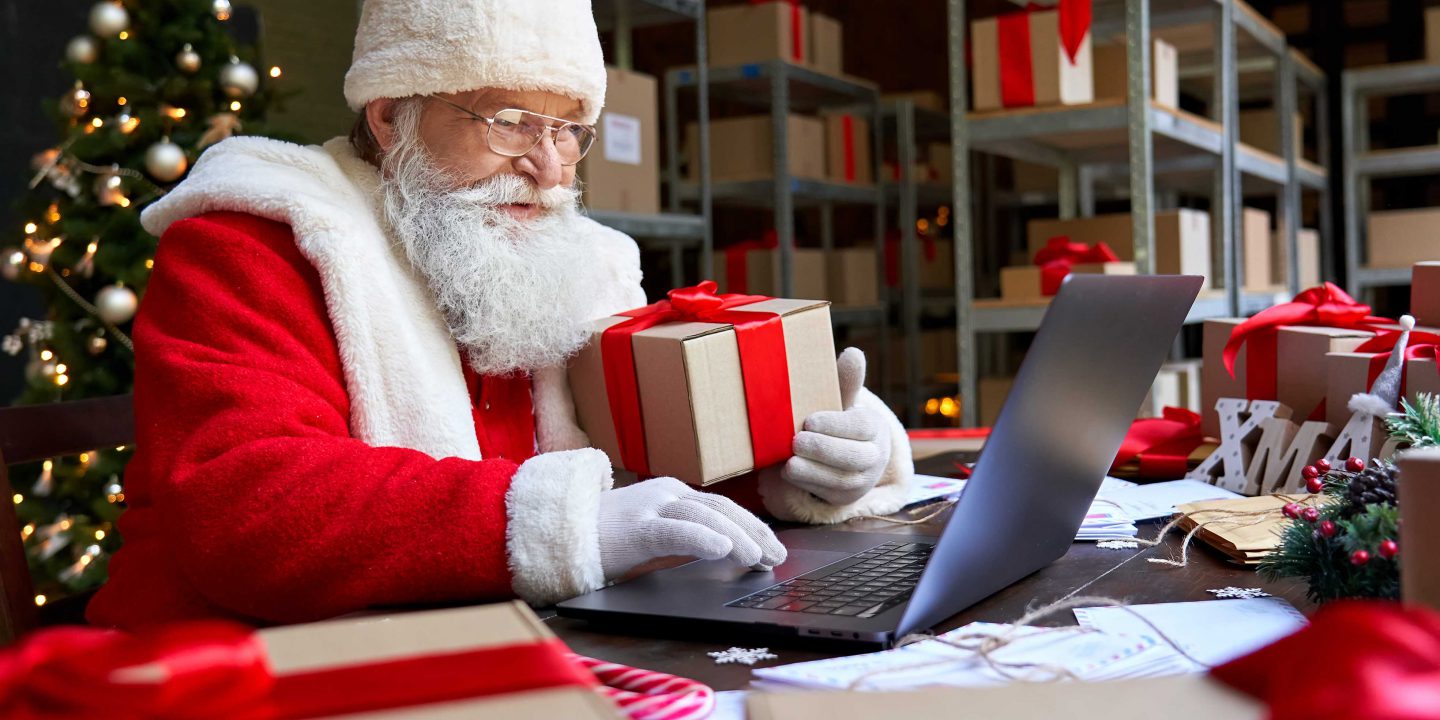 On the most part, supply chain alarm bells have recently been ringing in place of festive sleigh bells. At Aramex UK HQ, however, our sleigh bells are as loud and proud as ever. With the day the old man climbs down the chimney just a mere few weeks away, our customers are putting final preparations for their festive and biggest push of the year. What's better than a winter wonderland? A winter logistics wonderland.
As the nation gears up to press 'play' on the Christmas jingles (if it hasn't already!), Christmas sales have been streaming in thick and fast. Retailers have spent months doing what they can to forecast and prepare for the festive rush. From employing a few extra elves on the ground to stockpiling wrapping materials, it's full festive swing ahead to the most wonderful time of the year. Here's our recommendations to make sure that's the case!
When Santa got stuck at the end of the supply chain
It's easy to fall into the trap of looking at a supply chain from one end, or in one direction. Most commonly, the forward flow of start to finish is prioritised: purchasing materials, product production, packaging, and delivery to the customer (retailer or direct to door). Considering the reverse process, however, is key to ensuring a stable, successful supply chain that works to avoid any disruptions.
For instance, the majority of retailers' 2021 supply chain woes have been to do with a lack of transportation provision. Saturating your transport efforts to just a single supplier massively reduces the flexibility and adaptability of your operations. Working with a logistics provider that partners with a wide range of last-mile couriers helps to ensure that products can still make it to their end destinations, regardless of external factors. After all, Santa doesn't just have one reindeer pulling his sleigh!
Honey, I'm (not) home!
We all know the feeling of getting home with a sense of disappointment as you notice the little piece of card on the doormat. It's frustrating missing a delivery in itself, not least when you can't reschedule it for an appropriate date or time, or you have to traipse out to a collection point to retrieve it!
Offering your customers a range of delivery options (at home, instore, or by click and collect) helps to omit the likelihood of missed deliveries, keeping smiles on faces. It also prevents wasted time on your courier's watch; their activities are more efficient, and they aren't having to waste valuable time or manpower rescheduling and reattempting delivery.
A Multi-channel Sales Approach
Whilst kids revel in the magic of presents appearing from seemingly nowhere overnight, supply chain managers can revel in knowing the number, and exact locations, of their products at all times.
In the run up to Christmas, many retailers choose to adopt a multichannel sales approach. This ensures that their products are in front of as many customers as possible, helping to drive sales. The caveat, however, is stock management. For instance, the three, four, five online platforms you choose to sell on may all work independently, with overall inventory levels not getting updated.
Aramex's new Warehouse Management System (WMS) integrates with sales platforms, allowing the user to see stock data in real-time. These analytics help to pinpoint best-performing products, stagnant stock that requires a promotion to shift, or items that are experiencing a surge in demand. Such information allows for strategic decision-making and helps identify any necessary changes along the supply chain.
End-to-End Visibility
And the visibility isn't just restricted to the warehouse, either! Aramex's WMS integrates with package carriers, meaning the fullest overview of a product's journey from end to end. Thanks to being cloud-based, it can be accessed from anywhere at any time, making logistical processes far simpler to access and keep track of.
The ability to be proactive rather than reactive during busy seasonal periods is a game-changer. Annoyances like bottlenecks can be pinpointed as soon as they're hinted at, enabling counter-processes to be actioned straightaway.
In-Flight Entertainment
Though we can't compete with Santa's ability to fly presents to all children, worldwide, within 24 hours, we can offer the most simple and easy international shipping money can buy! Thanks to our global warehouses and distribution hubs, overseas operations are fast and fully supported by our wider, worldwide teams of experts.
Our range of value-added services, including full customs support and duty and tax calculators, take away the headaches often associated with the paperwork of international shipping, too. Our increasing number of partnerships with airlines means that we're always running our operations with generous capacity, allowing us to accommodate a whole range of requests, no matter the shape or size. And our ability to stockpile products at either end before distributing in one, swift manner means that speedy overseas deliveries are a very realistic possibility, no matter the size of your business.
The festive season is upon us, and it's here to be enjoyed. Make this year your year to start walking in a logistics wonderland. Find out how our industry expertise can help you to improve your logistics operations today!
---