It's not always easy to figure out how to start an e-commerce business, but setting up, creating, and maintaining payments through E-commerce websites is now easier than ever with the development of many payment solutions.
With the rise of e-commerce in the Middle East, the demand for dependable eCommerce payment gateways is growing. According to statistics 91% of customers in MENA have become digital converts and will continue to buy online in 2022.
It's critical for online store owners to choose a cost-effective payment gateway that interacts easily with their online store. MENA shoppers are looking for safe and secure online payments – more than 60% of people believe secure checkout is fundamental for a good online shopping experience.
A payment gateway is a merchant service that allows e-commerce websites to accept credit card payments. It helps you take care of the customer's credit card information and allows you to take practically any payment method with ease. In this article, we will shed a light on the best payment gateways in the Middle East in 2022.
CashU
CashU was launched in 2002 as a safe and secure online payment option. It is the first and largest in the Middle East and North Africa (MENA), servicing almost 2.3 million customers with convenient online payment options.
CashU has made it easy for customers to fund their CashU accounts and shop online from merchants who accept CashU as a payment method by making it available at over 75,000 respectable and approachable retailers throughout every country and city in the MENA region.
UAE, Qatar, Oman, Bahrain, Jordan, Saudi Arabia, Kuwait, Egypt, and Lebanon are among the countries that offer the CashU service.
Moyasar
Moyasar was founded in Saudi Arabia, It is regarded as one of the most well-known online and best payment gateways in the Middle East and North Africa (MENA).
Moyasar provides e-Payment solutions that greatly match the current needs of your online store. Their payment solutions are flexible enough to suite your needs as your online store grows. As a result, it is used by a large number of online retailers in the Arab world, particularly in the Gulf.
Moyasar offers a variety of payment options, including credit cards, payment accounts, and invoicing and permanent reporting, as well as API access and the ability to integrate with a wide range of administrative, accounting, and financial systems.
Are you still hesitant about establishing your own E-store? With GoDaddy, it is easier than ever!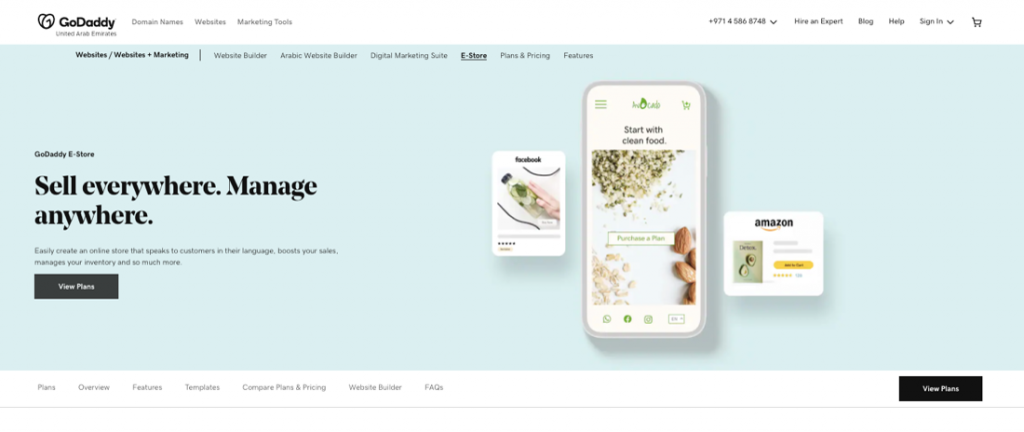 Start Now with GoDaddy E-store and accept payments all over the world.
Fawry
Fawry is a popular e-commerce payment solution in Egypt, accounting for almost 60% of payments. Offering financial services to consumers and businesses through more than 225,000 locations and a variety of channels. The Fawry services for businesses include collection services, customer acquisition, electronic cash, payment facilitation, and business-to-business collection centers.
Lately, GoDaddy has collaborated with Fawry to help Egyptian startups and entrepreneurs start their online business journey as easily, securely, and smoothly as possible.
GoDaddy launched its Arabic Website Builder to help local Arabic-speaking customers in the Middle East and North Africa (MENA) reach out to their target audience in their native tongue.
As result now you can use Fawry as a payment gateway in Egypt if you use GoDaddy E-store.
Remember to secure your website with SSL Certificate to ensure protection and privacy to your customers
Myfatoorah
Myfatoorah has combined business effectiveness with simplistic elegance to make it simple for business owners to build and integrate any business application while maintaining security.
Customized solutions are available too. You can integrate your own accounting and financial management systems is available.
MyFatoorah works as a payment gateway in the UAE, Saudi Arabia, and the GCC.
With the GoDaddy E-store, business owners can now easily establish an E-store that accepts over 40 payment options, including MyFatoorah.
Paytabs
Paytabs is a b2b online payment gateway, It was developed by Abdulaziz Aljouf, a Saudi entrepreneur, to help MENA merchants find economical and secure eCommerce payment gateways.
Paytabs provides an integration box in which you may create and configure your online E-store with shopping cart plugins that fit your business model. In addition, the platform offers a variety of solutions for merchants in a variety of industries. Paytabs accepts payments from across the region like Egypt, KSA, Iraq, Jordan, Kuwait, Oman, UAE, Turkey, Lebanon, and more.
It also has a sophisticated system for preventing online store fraud, as well as a customer service specialist who can help with legal issues.
Choosing the best payment gateway is crucial
Your customers and your business both benefit from a positive checkout experience.
With the right payment gateway that fits your business structure and your target audience's preferences, you will not only assure customer stratification, but you'll also increase conversion and expand your business.
That's why it's critical to consider your specific business needs and work with a suitable payment gateway solution that can help you satisfy those demands while also allowing you to scale your business.
Related articles: How to set up payment methods in GoDaddy E-Store?